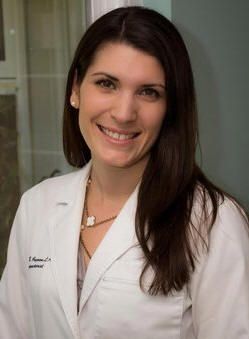 Holly B. Goguen DAOM, L.Ac., Dipl. O.M. (NCCAOM)
---
As a young girl, Dr. Goguen's interest in health and healing began after struggling with her own poor digestion. She became fascinated with why we get sick, how the disease process happens, and why experiences can be so different from one person to the next. She fell in love with Oriental Medicine because it encourages patients to take a proactive stance in the maintenance of their health rather than seek a temporary solution as ailments arise. Each individual's unique symptoms are very important in diagnosis and treatment is tailored to that individual rather than what works for most people.
As our health often intersects with the stress, emotional and mental issues we face on a daily basis, she feels it is important to treat the whole you, not just the symptom, concern, or disease. She seeks to provide her patients with the time to answer their questions, a gentle touch to show them respect and care, and the knowledge to pass on to help them live a fuller and healthier version of their lives.
Dr. Goguen has received the following certifications and degrees:
M.S. Master of Science in Traditional Chinese Medicine
L.Ac. Licensed Acupuncturist
D.A.O.M. Doctor of Acupuncture and Oriental Medicine
Dipl.O.M. Diplomate in Oriental Medicine from national board, NCCAOM
C.M.T Certified Massage Therapist
Reiki Master/ Teacher
---
Degrees
Dr. Goguen received her Bachelor's Degree in Science from the University of Massachusetts at Amherst. There she graduated Summa Cum Laude as a Commonwealth Scholar in the Honors Program, with interdisciplinary honors. She completed her undergraduate research thesis in a genetics laboratory under Dr. Deborah Good.
Continuing her education, Dr. Goguen went on to receive her Master's Degree in Science in Traditional Chinese Medicine from the American College of Traditional Chinese Medicine in San Francisco, CA. ACTCM is recognized world-wide as one of the most outstanding schools for TCM in the United States. Known as a dedicated student, who is passionate about learning, Holly graduated from ACTCM with a 3.95 GPA.
While working as a professor at Emperors College in Santa Monica, Dr. Goguen completed her Doctoral education in 2013, with an emphasis on research and education. While working at Emperors from 2008 to 2015, she started the Community Ear Acupuncture program in the Emperors Clinic to serve the local community and was a professor of acupuncture point location.
Dr. Goguen is additionally Board Certified nationally in Oriental Medicine from the NCCAOM as a Diplomat of Oriental Medicine.
---
Academic Honors
American Society of Animal Science Scholarship Award
Jay A. Pirog Scholarship
Herbert L. Forest Scholarship
Lotta Crabtree Scholarship
AHO Memorial Scholarship
Howard Hughes Research Fellowship
Honors Research Fellowship
Life Sciences Junior Fellowship
American Foundation for Aging Research Grant
ECTOM Teaching Scholarship
David Migocki Memorial Scholarship
Golden Key National Honor Society
Phi Kappa Phi Honors Society
Professional Associations:
Society for Acupuncture Research (SAR)
California Acupuncture Association (CAA)
California State Oriental Medical Society (CSOMA)
American Society of Acupuncturists (ASA)
American Association of Acupuncture and Oriental
Medicine (AAAOM)
---
Reviews
Kim W
The people who work in this office genuinely care for their patients/customers. The acupuncture has really helped alleviate pain and stress. The cheerful attitudes of all of the staff make it a pleasant environment!
Judy C
I am so glad to have found Holly and staff they are the best! My acupuncture experience has been nothing but positive with positive results!
D.C.
One word FANTASTIC - I've had a lot of different acupuncture and all I can say is very thorough and thoughtful. I wanted to go for a run after I had my treatment. Thank you for helping me to get back to better health!
P.F.
Having debilitating back pain for several years now I decided to give acupuncture a try. Not knowing much about acupuncture and a bit apprehensive I entered. The staff were amazingly supportive and very understanding and patient to answer my questions and address my concerns. I immediately felt comfortable with the thought of being in such caring people. I am excited at the prospect of having and continuing this therapy for my pain relief. Thank you Genesis!
Sam H
I'm happy to offer Holly a full throated endorsement. I'm a great believer in acupuncture and a big fan of Holly's service. I received treatments on a routine basis for about three years between 2010-2013 and always felt like I was being cared for in the best way possible. She was able to help me with a variety of symptoms including headaches and generalized pain and depression. Sadly, only a small potion of the pop receives acupuncture. It's a great remedy for pain.
Cecilia P
Holly is great along with the entire staff. They also have a nice peaceful environment.
Gundula M
Most relaxing and feel good acupuncture and cupping experience. Holly is an expert, listens and her care and experience shows. Absolutely recommend any treatment she suggests.
Judy N
This was a very pleasant and relaxing experience, especially since I had not tried acupuncture before. All the staff were great and I am planning to try additional treatments.
Yesinia M
Excellent service, professional service, staff knowledgeable and always friendly! Very cozy environment! Great prices!
Diane K
Holly is so in tune with knowing exactly what points are the best for helping me to be out of pain! Truly feel better because of this! Thanks Holly!
Jake P
I've had off and on back and shoulder issues for the past 8 years. The only thing that seems to help is acupuncture. Holly Goguen is great! Within five minutes, and 3 needles, the pain is being diminished. The next 15-20 needles and the 45 minutes relaxation are complete heaven. I couldn't recommend her treatment more! I hope to be back at least once/month.
Sunee F
Every aspect of the office is gentle, soothing and caring. The practitioners listen and treat you with loving kindness and concern. They are patient and work with patients to meet their needs. They listen and follow through.
Veronica K
My experience was great! I went for acupuncture treatment. The office is beautiful, looks something out of a magazine! The receptionist was very friendly and helpful! Holly Goguen was very informative. She made me feel very comfortable and most importantly, relieved my pain! I will definitely go back!
Donna R
Holly is the awesome. Great acupuncturist. Feeling great! Highly recommend!
Debika S
I came here looking for a cure for my sciatica problem and was not disappointed. For the first time in about 6 months I am now virtually pain free and am able to stand and walk without pain. The service is excellent and I look forward to many more acupuncture sessions.
John L
Holly and her staff have been nothing short of great. Her treatment rooms are clean and you feel like you are in a spa rather than a medical office. She cured my cervical radiculopathy in 4 treatments. Highly recommend.
Josie S
I've had just one appointment with Holly thus far, but I was instantly impressed and pleased with the experience- and the results. The office has a peaceful refreshing feel, and that is exactly how I felt the rest of the day. The next day I had more energy than I can remember having in months (i didn't even think my energy level was bad to begin with). I'm looking forward to my next appointment and the results that I'm hoping to gain!
Brian B
It works!!! I was treated for anxiety, stress and headache. As a professional make up I work long hours and deeply needed body work. The combination of my acup. and mass. was the best! My headache was gone and I was extremely calmed down, I was asleep hours early, and I slept great. The amazing part was today, I finally feel relaxed and can focus so much better. I worked all day and accomplished so much. I will be back next week so I can keep this up. Such a great experience!
V.M.
Every time I go here I leave relaxed and happy. The ladies who work here are all extremely friendly. There's a very peaceful feeling from the moment you walk in.
Wilson S
I have been going for acupuncture now for over 3 months. Holly has greatly improved my lower back situation. She listens to me regarding my back needs. She is always very professional and a pleasure to work with.