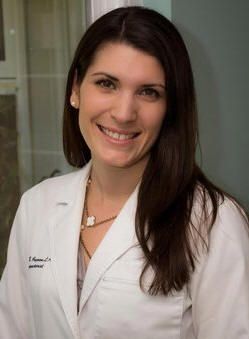 Holly B. Goguen DAOM, L.Ac., Dipl. O.M. (NCCAOM)
---
As a young girl, Dr. Goguen's interest in health and healing began after struggling with her own poor digestion. She became fascinated with why we get sick, how the disease process happens, and why experiences can be so different from one person to the next. She fell in love with Oriental Medicine because it encourages patients to take a proactive stance in the maintenance of their health rather than seek a temporary solution as ailments arise. Each individual's unique symptoms are very important in diagnosis and treatment is tailored to that individual rather than what works for most people.
As our health often intersects with the stress, emotional and mental issues we face on a daily basis, she feels it is important to treat the whole you, not just the symptom, concern, or disease. She seeks to provide her patients with the time to answer their questions, a gentle touch to show them respect and care, and the knowledge to pass on to help them live a fuller and healthier version of their lives.
Dr. Goguen has received the following certifications and degrees:
M.S. Master of Science in Traditional Chinese Medicine
L.Ac. Licensed Acupuncturist
D.A.O.M. Doctor of Acupuncture and Oriental Medicine
Dipl.O.M. Diplomate in Oriental Medicine from national board, NCCAOM
C.M.T Certified Massage Therapist
Reiki Master/ Teacher
---
Degrees
Dr. Goguen received her Bachelor's Degree in Science from the University of Massachusetts at Amherst. There she graduated Summa Cum Laude as a Commonwealth Scholar in the Honors Program, with interdisciplinary honors. She completed her undergraduate research thesis in a genetics laboratory under Dr. Deborah Good.
Continuing her education, Dr. Goguen went on to receive her Master's Degree in Science in Traditional Chinese Medicine from the American College of Traditional Chinese Medicine in San Francisco, CA. ACTCM is recognized world-wide as one of the most outstanding schools for TCM in the United States. Known as a dedicated student, who is passionate about learning, Holly graduated from ACTCM with a 3.95 GPA.
While working as a professor at Emperors College in Santa Monica, Dr. Goguen completed her Doctoral education in 2013, with an emphasis on research and education. While working at Emperors from 2008 to 2015, she started the Community Ear Acupuncture program in the Emperors Clinic to serve the local community and was a professor of acupuncture point location.
Dr. Goguen is additionally Board Certified nationally in Oriental Medicine from the NCCAOM as a Diplomat of Oriental Medicine.
---
Academic Honors
American Society of Animal Science Scholarship Award
Jay A. Pirog Scholarship
Herbert L. Forest Scholarship
Lotta Crabtree Scholarship
AHO Memorial Scholarship
Howard Hughes Research Fellowship
Honors Research Fellowship
Life Sciences Junior Fellowship
American Foundation for Aging Research Grant
ECTOM Teaching Scholarship
David Migocki Memorial Scholarship
Golden Key National Honor Society
Phi Kappa Phi Honors Society
Professional Associations:
Society for Acupuncture Research (SAR)
California Acupuncture Association (CAA)
California State Oriental Medical Society (CSOMA)
American Society of Acupuncturists (ASA)
American Association of Acupuncture and Oriental
Medicine (AAAOM)