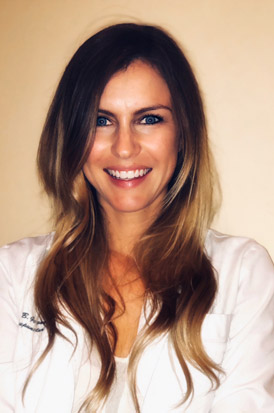 Nicole Glathe DAOM L.AC
---
Dr. Nicole Glathe received her BS in Biology, with an emphasis in Human Physiology from University of California San Diego. She continued her education earning her Masters of Traditional Oriental Medicine from Emperor's College, graduating Summa Cum Laude. While getting her masters, she also completed a certification program in Classical Five Elements Acupuncture, working directly under Neil Gumenick as his clinical intern. She then went on to achieve her doctorate, focusing her capstone research on herbal medicine for women's health and primary dysmenorrhea (period pain). She is licensed by the state of California to practice acupuncture and nationally is a Diplomate of Oriental Medicine through NCCAOM. She is a faculty member at the Institute of Classical Five Elements Acupuncture.
She specializes in treating the mind, body, and spirit through ancient techniques and modern science. Through a combination of acupuncture, electrostimulation, herbal medicine, cupping, etc, she treats a variety of disorders, focusing on women's health/ fertility, pain, and stress management.
---
Reviews
S.M.
Their customer service is top quality. They made sure I was feeling okay, and when it didn't feel right, they corrected it to where I was feeling good. They truly care about and listen to their clients needs, and they made sure that I had a good and thorough experience. Very kind, patient, and quality service. 5/5 stars.
Caneel R
I came in with a frozen painful neck and walked out on a cloud of relaxation. Plus I learned about the systems that were disrupted in my body as part of the pain. Thank you!!
Danni S
Very caring staff, listened and responded with sensitivity. The treatment was painless and relaxing.
Debra K
The best acupuncturist massage therapy location in Southbay. I have been to this facility numerous times and they have the friendliest staff the nicest people they care and have great concern for your well-being. They listen to your health concerns and customize your treatment in your best interest. They really helped me with neck and back issues !
Jo S
After going through traditional western medicine techniques for a year after a car accident, my health care provider authorized acupuncture to get my pain under control. Acupuncture has allowed me to decrease my need for medication that can damage my body with long term use. Holly and Nicole are incredibly knowledgable and professional. They listen to my needs and adjust accordingly. They have helped me through a very difficult time. The office staff is very helpful and considerate.
Kelsey P
I love coming here for acupuncture and the overall relaxed vibe. All of the therapists are so sweet, professional and helpful. I leave here every treatment feeling calm, relaxed and happy. Thanks girls!
J.I.
I have Fibromyalgia and damages to my bones, muscles, et cetera from a Terrible fall in 2019. Feeling much better, and off of most of the hard core meds.
Danielle L
I had my first appointment with Nicole and felt it was a great experience. While it's only been 1 session and I haven't seen any changes, the experience itself was warm and inviting. She asked thoughtful questions and suggested diet and supplement changes to go along with the acupuncture itself. I will report back when I start seeing improvements.
Fifi A
I felt very comfortable and peaceful there.. The atmosphere was very quiet and relaxing. The Music was very soothing. Nicole was very attentive and calming. She explained everything and her voice was gentle.
Larry L
Nicole hit all my key needle points and did an excellent job with Gua Sha. Thank you. The review says I need 15 more characters to submit. So, there you go.
Robert I
Great staff! and service. I Injured my neck and shoulder area, with aggravating non stop pain. Dr. Nicole Glathe's administered acupuncture and felt 50% better after my first treatment.
Gina L
Recently, I had the pleasure of meeting Nicole at Holly Goguen's clinic. Nicole is a very good and proactive listener. She asked for clarification when going over my symptoms. I liked that, as it showed she was interested in obtaining as much accurate information as possible, which she then applied to my acupuncture treatment. Nicole is flexible with her treatments and strives to keep you comfortable during them. I would recommend Nicole without hesitation for acupuncture therapy.
Erika R
I've been receiving acupuncture here for almost a year and the service has been nothing but wonderful. Both Holly and Nicole are great listeners and always make you feel like they truly want to help your well being. They listen to everything going on to get an overall picture and always adjust the treatments to what works best with you. Also a very clean and relaxing space. Would highly recommend.
David H
As a new person to acupuncture, I found Nicole to be top notch in terms of her knowledge and listening abilities. She spends time getting to know how she can help in the treatments. And I felt comfortable knowing I am in the hands of true professionals. Their facility is very clean, quiet and a relaxing atmosphere. I am happy to let acupuncture do its work on my body and enjoy the experience at their office... I highly recommend going there.
Frank A
I'm VERY impressed of the healing and time that has been given to me by Nicole Glathe DAOM, L.Ac. I'm feeling the best I've been in the last two years. Everyone is extremely friendly (Dr. Holly, Angel). I HIGHLY RECOMMEND these wonderful Acupuncturists.